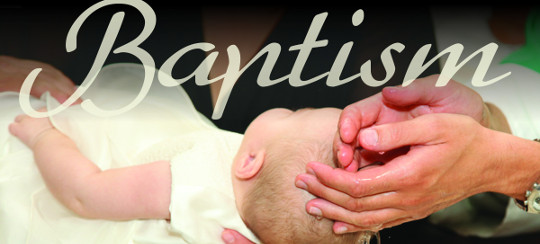 Welcome Your Child Into Our Catholic Faith
The Sacrament of Baptism, the first of the three sacraments of initiation, is also the first of the seven sacraments in the Catholic Church. Baptism removes Original Sin, enters into or confirms our commitment to the new covenant and incorporates the baptized into the Church, the Mystical Body of Christ on earth.
For infant/child baptism, parents and godparents are the primary catechists of the child. This is a life-long commitment and is a serious undertaking. A godparent must also be an active member of the Catholic Church, however a baptized and believing Christian not belonging to the Catholic Church may act as a Christian witness as long as there still is a Catholic godparent who fulfills the following requirements:
First, they must have received all three Sacraments of Initiation: Baptism, Eucharist and Confirmation
Second, they must faithfully attend Mass each week and on holy days
Third, that, if married, have been married in the Catholic Church in the presence of a Catholic priest and two witnesses.
Fourth, they must be 16 years old and able to accept and carry out the duties of godparent.
If the Catholic godparent does not belong to our parish then a Sponsor or Godparent Certificate of Eligibility declaring that they are good, practicing Catholics must be obtained from their pastor at their local church. This must be received by the office prior to the baptism.
Baptismal preparation, a mandatory three (3) hour course for parents and godparents, is scheduled by appointment. Children are welcome to attend, however, this may lengthen the class time. To schedule a class, please contact Marc Lecours at 860-904-3855. You may attend this class prior to the birth of your child to help facilitate the process.
Baptisms are normally the third Sunday of the month at 12:30 P.M. in the main church.